Search company, investor...
Last Raised
$110M
| 2 yrs ago
Mosaic Score

The Mosaic Score is an algorithm that measures the overall financial health and market potential of private companies.
+30 points in the past 30 days
About Aetion
Aetion is a healthcare analytics company. It provides decision-grade real-world evidence solutions to biopharma companies, payers, and regulatory agencies. It offers a platform that analyzes data from the real world to produce scientifically validated answers on treatments, effectiveness, and value. The company was founded in 2012 and is based in New York, New York.
Aetion's Product Videos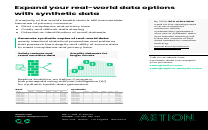 Replica Analytics one-pager-1-final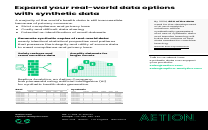 Replica Analytics one-pager-1-final
ESPs containing Aetion
The ESP matrix leverages data and analyst insight to identify and rank leading companies in a given technology landscape.
Healthcare & Life Sciences / Health Data & Analytics
The real-world data market offers a variety of value propositions to the pharmaceutical industry, drug labs, and healthcare organizations. It provides access to diverse patient populations, longitudinal real-world data, and patient-powered or EHR-powered controls that can replicate real-world scenarios. This can help shorten drug development timelines, reduce patient recruitment burdens and costs,…
Aetion named as Leader among 15 other companies, including Tempus, Datavant, and Truveta.
Compete with Aetion?
Ensure that your company and products are accurately represented on our platform.
Aetion's Products & Differentiators
Aetion Evidence Platform (AEP)

The Aetion Evidence Platform (AEP) is a scientifically validated software platform that analyzes data from the real world to produce transparent and rapid answers on safety, effectiveness and value across the lifecycle. AEP enables seamless access to fit-for-purpose real world data through its robust and reliable data ingestion process. This supports scientifically rigorous analyses that include a longitudinal view of patients.
Expert Collections containing Aetion
Expert Collections are analyst-curated lists that highlight the companies you need to know in the most important technology spaces.
Aetion is included in 10 Expert Collections, including Clinical Trials Tech.
C
Clinical Trials Tech
341 items
Companies developing products and services to streamline drug R&D, from drug discovery, pre-clinical testing, and clinical trials.
C
Conference Exhibitors
5,501 items
HLTH is a healthcare event bringing together startups and large companies from pharma, health insurance, business intelligence, and more to discuss the shifting landscape of healthcare
D
Digital Health 150
450 items
2019's cohort of the most promising digital health startups transforming the healthcare industry
V
Value-Based Care & Population Health
1,259 items
The VBC & Population Health collection includes companies that enable and deliver care models that address the health needs for defining populations along the continuum of care, including in the community setting, through participation, engagement, and targeted interventions.
D
Digital Health
10,341 items
The digital health collection includes vendors developing software, platforms, sensor & robotic hardware, health data infrastructure, and tech-enabled services in healthcare. The list excludes pureplay pharma/biopharma, sequencing instruments, gene editing, and assistive tech.
C
Clinical Trials Tech Market Map
108 items
This CB Insights Tech Market Map highlights 100+ clinical trials tech companies that are addressing 8 distinct technology priorities that pharmaceutical companies and CROs face.
Aetion Patents
Aetion has filed 4 patents. | Application Date | Grant Date | Title | Related Topics | Status |
| --- | --- | --- | --- | --- |
| | | | Database management systems, Data management, Relational database management systems, Free database management systems, Databases | |
| | |
| --- | --- |
| Application Date | |
| Grant Date | |
| Title | |
| Related Topics | Database management systems, Data management, Relational database management systems, Free database management systems, Databases |
| Status | |
Latest Aetion News
DNA Printing, Bioengineered Kidney Constructs in Space, Revvity's Big Pharma Agreements, More
May 24, 2023
May 24, 2023 May 24, 2023 | The Association for Molecular Pathology releases recommendations for germline variants detected by NGS, 10x Genomics wins German injunction against NanoString Technologies, and Revvity—formerly PerkinElmer—announces new license agreement with AstraZeneca. Plus new products and deployments from DNA Script, Thermo Fisher, Model N, GenScript, and more. Clear Labs has launched the Clear Dx Microbial Surveillance Whole Genome Sequencing Solution, a fully-automated, end-to-end whole genome sequencing (WGS) solution for bacterial and fungal isolates. The application sets a new standard for speed, efficiency and simplicity in pathogen characterization. Clear Dx Microbial Surveillance WGS automates the entire WGS process for up to 12 microbial isolates in just 27 hours. This represents a substantial time reduction compared to traditional manual workflows, and the new Clear Labs product requires only minutes of hands-on time. Press release . DNA Script, the worldwide leader in Enzymatic DNA Synthesis (EDS) technology, has announced the broad commercial availability of the fully automated SYNTAX DNA printing platform, which consists of the benchtop STX-200 system, latest biochemistry advancements, robust reagent kits, and intuitive software enhancements. Powered by the company's proprietary EDS technology, the new SYNTAX platform allows scientists to synthesize up to 96 highly accurate, ready-to-use DNA oligos with maximum lengths of up to 120 nt in less than 24 hours in their own laboratories. The versatile platform works with the new SYNTAX Hi-Fidelity reagent kits for synthesizing longer oligos used in complex synthetic biology and genomics applications, including gene assembly, that require high sequence accuracy. The kits were also designed to incorporate degenerate bases for applications, such as protein mutagenesis. Press release . Thermo Fisher Scientific has opened a new sterile drug facility in Singapore that will better enable customers to deliver new medicines and vaccines in the Asia-Pacific market. The new facility also marks a significant milestone and investment in pandemic preparedness for Singapore, which is fast emerging as a biomedical hub in the Asia-Pacific region. Established with assistance from the Singapore Economic Development Board (EDB), in alignment with the government's investment in preparedness for future health emergencies, the current Good Manufacturing Practices (cGMP) facility will provide rapid vaccine fill-finish capabilities along with Thermo Fisher's end-to-end pharmaceutical development and manufacturing services. Press release . Researchers from the Wake Forest Institute for Regenerative Medicine are partnering with the RegenMed Development Organization to send bioengineered liver and kidney constructs to space to explore ways to help reduce the number of people waiting for vital organs. In a project launching on Axiom Space's second private astronaut mission (Ax-2), the team will leverage the International Space Station (ISS) National Laboratory to examine microgravity's effects on the vascularization of these thick tissues. Findings will help lay the foundation for in-space production of human tissue that could be used to improve disease modeling and patient care on Earth. Press release . The U.S. Food and Drug Administration (FDA) has cleared the Thermo Scientific B·R·A·H·M·S PlGF plus KRYPTOR and B·R·A·H·M·S sFlt-1 KRYPTOR novel biomarkers, the first and only immunoassays to receive breakthrough designation and clearance for the risk assessment and clinical management of preeclampsia, a severe pregnancy complication. These new assays are designed to be used along with other laboratory tests and clinical assessments to aid in the risk assessment of pregnant women who have been hospitalized for hypertensive disorders of pregnancy to determine if they are at risk of progressing to preeclampsia with severe features within the next two weeks. Press release . Model N has released new products for life sciences and high-tech customers. The following innovations are a few highlights of Model N's Spring 2023 product release: 340B Vigilance Prevents Duplicate Discounts (flags and manages prescriptions to prevent duplicate discounts before rebate payment); Global Tender Management Improves Supply Chain Visibility in Europe (ensure complete visibility into inventory commitments across the supply chain); and Mass Price Change Increases Business Agility for High Tech (help high-tech companies directly address inflation and supply chain disruptions). Press release . GenScript has expanded its primary manufacturing facility for oligonucleotide and peptide production at Zhenjiang, Jiangsu, China. The expansion builds on GenScript's reputation for supporting scientists worldwide by offering high-quality oligo and peptides for 20 years. And it follows recent openings of a new regional recombinant protein production facility and expanded premium gene synthesis capacity at its Singapore facility. These build-outs represent a significant expansion of the company's advanced synthetic RNA and peptide capability in the region, and position GenScript to offer the premium service levels required for novel vaccine and therapeutics development from Asia-Pacific biotech companies. Press release . 10x Genomics has won an injunction in its patent litigation against NanoString Technologies and NanoString Technologies Germany. The Munich Regional Court issued a permanent injunction today that—once provisionally enforced against a security bond—requires NanoString to stop selling and supplying the CosMx Spatial Molecular Imager (CosMx SMI) instruments as well as CosMx reagents for RNA detection in Germany. The Munich Regional Court issued the injunction based on its finding that the CosMx products infringe European Patent Number 2794928B1, which relates to in situ detection of analytes. In its decision, the Munich Regional Court referenced an earlier preliminary opinion by the German Federal Patent Court finding the asserted claims of the patent valid. Press release . The Association for Molecular Pathology (AMP) has published a report that was designed to establish recommendations for standardizing orthogonal confirmation practices for germline variants detected by next-generation sequencing (NGS). The manuscript, "Recommendations for Next-Generation Sequencing Germline Variant Confirmation: A Joint Report of the Association for Molecular Pathology and National Society of Genetic Counselors," was released online ahead of publication in The Journal of Molecular Diagnostics. The AMP Clinical Practice Committee convened the NGS Germline Variant Confirmation Working Group to assess current evidence and standardize orthogonal confirmation practices to help limit the reporting of false positives. The new report offers eight recommendations that are based on a comprehensive review of published literature, empirical data, current laboratory practice surveys, feedback from open public comment, and professional experiences including: clinical laboratories offering germline testing using NGS should establish a written policy regarding orthogonal confirmation of NGS results, laboratories' orthogonal confirmation policy should be overseen and approved by a qualified and appropriately certified medical professional with training and experience in NGS, and more. Press release . BD (Becton, Dickinson and Company) has launched a new-to-world cell sorting instrument featuring two breakthrough technologies that enable researchers to uncover more detailed information about cells that was previously invisible in traditional flow cytometry experiments. With BD CellView Image Technology, researchers can see detailed microscopic images of individual cells and sort at high speeds based on visual characteristics to confirm insights in real time. With BD SpectralFX Technology, researchers can achieve full-spectrum cell sorting, coupled with expanded performance enabled by a new modular optical architecture and system-aware algorithms, to perform high-parameter experiments within a simplified workflow. The combination of these technologies in the BD FACSDiscover S8 Cell Sorter expands capabilities for researchers, introducing the potential to transform research and cell-based therapeutic development across numerous fields, including drug discovery, immuno-oncology and genomics. Press release . Revvity has announced a new license agreement with AstraZeneca for the technology underlying its Pin-point base editing system, a next-generation modular gene editing platform with a strong safety profile. The Pin-point system and the underlying base editing technology is designed to enable highly efficient and precise single and multiplex (multi-gene) editing without unintended impact on cell viability or functionality. Compared to traditional CRISPR technologies, which create double-stranded breaks in the DNA, this newer editing system uses a modified Cas enzyme that only nicks one strand of the DNA. This allows for a more controlled approach to gene disruption and base correction. The Pin-point system differs from other base editing systems in that it is completely modular, allowing different components to be selected for optimal performance specific to the gene targets. Press release . Form Bio has been selected to help organizations adopt Google Cloud's Multiomics Suite. Multiomics provides an integrated perspective to power discovery across life sciences research domains. Organizations will have an option to incorporate Form Bio's innovative platform when adopting Google Cloud's Multiomics Suite. The collaboration with Google Cloud will combine ease of use with comprehensive analysis of genetic and proteomic data, expediting biopharmaceutical research. Press release . Deepcell has launched the REM-I Platform, a high-dimensional cell morphology analysis and sorting platform which comprises the REM-I benchtop instrument, Human Foundation Model, and Axon data suite. By bringing together single cell imaging, sorting, and high-dimensional analysis, the REM-I Platform will catalyze new methods of discovery in a wide range of fields including cancer biology, developmental biology, stem cell biology, gene therapy and functional screening, among others. Press release . Parse Biosciences has extended its reach in the Middle East with an agreement with Israel-based Ornat Biochemicals and Laboratory Equipment. Parse's agreement with Ornat will give researchers in Israel access to its full single cell portfolio, including Evercode Whole Transcriptome, Evercode TCR, Evercode Cell Fixation, Evercode Nuclei Fixation, Gene Capture, and the Parse Biosciences data analysis solution. The agreement bolsters Parse's plan to offer its products in key international markets. Press release . Culmination Bio and Cofactor Genomics are partnering to leverage samples and data from one of the largest biobanks in the country to fuel the development of Cofactor Genomic's OncoPrism test in 11 cancers. The objective of the partnership is to build biomarkers for cancers being studied in the national PREDAPT (Predicting Immunotherapy Efficacy From Analysis of Pre-treatment Tumor Biopsies) clinical trial. The companies' relationship is initially focused on studying OncoPrism in cancers of the head, neck, and lung, and will soon expand into nine other indications for which the study is approved, including triple-negative breast, cervical, colorectal, esophageal, gastric, kidney, liver, and urothelial cancers. Early readouts for the head and neck cancer biomarker show that Cofactor's approach is twice as accurate as the PD-L1 biomarker in finding the subset of patients who respond to immune checkpoint inhibitors. Press release . Personalis, National Cancer Center, and Ono Pharmaceutical Co., have entered into a collaborative agreement to examine the efficacy and safety of nivolumab, an immune checkpoint inhibitor, for resectable rectal cancer with mismatch repair deficiency (dMMR). As part of the collaboration on the VOLTAGE-2 study, an exploratory analysis will be conducted to evaluate specific biomarkers such as minimal residual disease (MRD) status that may have prognostic or predictive value for patient care. Under the agreement, National Cancer Center Hospital East (NCCHE) will recruit patients and conduct the clinical trial, Ono will provide nivolumab, and Personalis will perform MRD and biomarker testing. Biomarker research will be conducted throughout the study, including sample analysis from both tumor lesion tissue and plasma circulating tumor DNA (ctDNA). The Personalis NeXT Personal platform will be used to correlate MRD status with standard of care imaging and drug response data by monitoring variances in ctDNA. Tissue samples will be analyzed by the Personalis ImmunoID NeXT platform to capture tumor molecular profile and tumor microenvironment features to better understand immunotherapy responses. Press release . ArisGlobal has acquired the SPOR (Substances, Products, Organisations and Referentials) data governance and integration solution, SPORIFY. SPORIFY provides consistent and ISO IDMP-compliant SPOR data to feed regulatory activities across the product life cycle, enabling more informed, proactive regulatory decisions to benefit public health and safety. It is the trusted SPOR data harmonization technology solution for five of the world's top 20 largest pharmaceutical companies and several European regulators. Press release . SCIEX has launched the BioPhase 8800 driver for Empower software, which integrates the BioPhase 8800 system with the Empower Chromatography Data System (CDS) from Waters Technologies Corporation. Scientists can now directly control the multi-capillary BioPhase 8800 system through the Empower CDS while maintaining the experimental flexibility of SCIEX capillary electrophoresis (CE) systems. This brings BioPhase 8800 system integration into standard workflows, helping to minimize method development, improve characterization and, ultimately, shorten drug development timelines. Press release . Benchling has launched an initiative to standardize instrument data conversion in the scientific community. The company's efforts are twofold: Benchling is contributing to industry standards as an active member of the Allotrope Foundation Partner Network (APN) and is also creating a library of open source converters that format instrument-generated data to the Allotrope Simple Model (ASM) standard to help organizations to put these standards into practice. By making these converters available in the open source, companies of all sizes will be able to easily standardize and connect instrument data within and across their labs, ultimately driving greater industry adoption of findable, accessible, interoperable, and reusable (FAIR) data. Press release . Oxford Nanopore Technologies and PathoQuest SAS have signed a definitive agreement to co-develop a transformational Integration Site Analysis (ISA) test to provide a Good Manufacturing Practice (GMP) validated nanopore sequencing-based commercial testing service to the biopharma industry. This is designed to address the needs of industrial developers and manufacturers of biological products, for example monoclonal antibodies or novel proteins that may be used across the life sciences/healthcare industry. Oxford Nanopore's technology can read any length of native DNA with high accuracy, meaning that the technology can identify and comprehensively sequence gene insertion sites without the risk of missing off target integrations. In addition, the PathoQuest ISA test will leverage real-time data streaming, enabling rapid and accurate clone identification, with the potential to speed up biopharma manufacturing Quality Control (QC) testing by months over traditional methods and therefore to support faster or more effective outcomes for biopharma. Press release . Absci Corporation and the University of Oxford's Kennedy Institute of Rheumatology are partnering to create breakthrough therapies for immune-mediated diseases. This partnership will leverage Absci's Integrated Drug Creation platform, with its unique combination of generative AI and synthetic biology capabilities, and The Kennedy Institute's leading clinical immunology datasets to identify antibodies to immune-mediated inflammatory diseases and autoimmune conditions with a higher probability of clinical success at unprecedented speeds. Absci will use generative AI models with The Kennedy Institute's genomics datasets to identify novel antibodies from patients with exceptional immune responses to inflammatory bowel disease (IBD), including Crohn's disease and ulcerative colitis. Then, using its reverse immunology approach, Absci will computationally re-assemble antigen-antibody pairs as promising potential starting points for drug development. Press release . Genialis has released Genialis Expressions version 3.0 to accelerate translational and clinical biomarker discovery. Expressions is a platform for the analysis and management of sequencing data that makes data querying and processing faster, smarter, and more secure. Designed around FAIR data management principles and bioinformatics best practices, the new Expressions delivers leading-edge UX enhancements including 10-100x increased responsiveness. Leveraging microservices via Kubernetes and adaptive AWS resources has improved scalability and cost-effectiveness, allowing users to process hundreds of concurrent transactions with exacting computational resources. The version launch of Expressions follows Genialis' recent close of $13M Series A financing, announced in March 2023. Press release . Aetion has launched Aetion Discover, a new application for exploratory analysis. The application provides users with an intuitive interface to generate swift hypotheses and insights across the biopharmaceutical and medtech lifecycle. As with Aetion Substantiate — also built on Aetion Evidence Platform — Discover powers results that are rapid, reliable, and scalable. In developing and commercializing assets, scientists, technologists, and analysts seek faster and simpler ways to understand large, longitudinal data sets and the insights these data hold. With Discover, users can view, assess, and select datasets for their specific analytic objective. Within and across datasets, users can define and describe populations of interest, and obtain and interpret results on any number of mission- and job-critical questions, such as label expansion-related hypothesis generation. Press release . Galileo has launched its proprietary data-quality intelligence platform, called Galileo Data Intelligence for Computer Vision. The first-ever solution to solve for data quality issues across the entire ML workflow, the Galileo platform will allow data scientists and ML engineers to automate the 'needle in the haystack' approach, reducing model production time by 10x, improving model accuracy by 15% across the board and reducing data labeling costs for human-labeled datasets by 40%. By adding just a few lines of Python code during the model training process, the innovative Galileo Data Intelligence for Computer Vision platform automatically identifies problematic data that negatively impacts model performance, then suggests effective solutions for data-science teams to seamlessly address the issue. With the Galileo platform, engineers will be able to address a major bottleneck in the data-science workflow, which will allow for more efficiency and accuracy in iterations as well as in image classification, object detection and semantic segmentation (pixel-level) models. Press release . Vizgen has joined EMBL's Corporate Partnership Programme (CPP). CPP members benefit from direct connection with EMBL's world-leading molecular biology and technology development, and their support enables EMBL to provide additional training opportunities for the next generation of molecular life scientists. Press release . Neogap Therapeutics, a privately held biopharmaceutical company focusing on immuno-oncology based at the Centre for Molecular Medicine at Karolinska Institutet, Stockholm, Sweden, and Cellerys, a Zurich-based company researching an innovative therapy to fight multiple sclerosis (MS), have entered a collaboration. Cellerys will use Neogap's patented EpiTCer technology in its upcoming Phase II study of a new type of cell therapy aimed at inducing antigen-specific immune tolerance in patients with multiple sclerosis (MS). Neogap EpiTCer technology will help detect rare autoreactive T cells in the patients, using them as biomarkers to study if and when patients develop tolerance. Press release . Adherence specialists AARDEX Group are proud to announce its partnership with other industry leaders on DiMe's new Extending the Verification, Analytical Validation, and Clinical Validation (V3+) Framework project. Organizations are taking digital clinical measures and products to scale, meaning digital health technologies (DHTs) must meet the needs of larger audiences. DiMe's existing V3 Framework is the go-to guide for evaluating whether sensor-based DHTs are fit-for-purpose from a technical, scientific, and clinical performance of the product perspective. The goal of the new V3+ project is to build on this success by adding evidence-based components that ensure DHTs meet the needs of all users through the application of best practices in usability, human factors, and human-centered design. Press release . Cytiva and the life sciences business of Pall Corporation have completed their integration and are now united as one business under the Cytiva brand. With nearly 16,000 associates in 40 countries, and more than 300 years' heritage of trusted expertise, the new Cytiva supports customers in solving major biotechnology challenges and plays a critical role in advancing and accelerating therapeutics for the benefit of patients everywhere. In January 2023, the life sciences business of Pall separated from Pall Corporation. Pall's biotech portfolio is now a product family in Cytiva's bioprocess business. The Pall medical portfolio will remain a market brand and part of Cytiva. Pall Corporation continues to operate as a Danaher operating company serving customers across a wide range of industrial applications. Press release . Gyros Protein Technologies AB has announced the introduction of Gyrolab Generic Cyno Anti-Drug Antibodies (ADA) Kit Reagents, for the detection of circulating immune complexes of human IgG with cyno anti-human IgG. The new ready-to-use kit reagents streamline pre-clinical development of antibody-based therapeutics, enabling immunogenicity screening of drug candidates without the need for drug-specific ADA assay development. The new kit expedites bioanalysis by removing the need for assay development and optimization across molecules to provide robust, reproducible, reliable data from nanoliter sample volumes. This is beneficial when ADA assessment is evaluated in pre-clinical animal models where sample volume may be limited. Press release . Charles River Laboratories International has launched Accugenix Next Generation Sequencing for Bacterial Identification and Fungal Identification (Accugenix NGS). Accugenix NGS simultaneously sequences millions of individual DNA fragments from a sample and provides key information to pharmaceutical and personal care manufacturers regarding microbial control. Charles River recently entered into partnerships with MPL - Mikrobiologisches Prüflabor (Austria) and Sure Laboratories (The Netherlands) to provide regional access to rapid, accurate microbial identifications to the industrial microbiology market, including pharmaceutical, biopharmaceutical, personal care and other global manufacturing industries. Customers of MPL and Sure Laboratories will now be able to leverage the robust Accugenix sequence and MALDI-TOF databases, consisting of relevant species that frequently occur in sterile and nonsterile manufacturing environments. Both databases are regularly updated to provide the most accurate and taxonomically correct identifications. Press release .
Aetion Frequently Asked Questions (FAQ)
When was Aetion founded?

Aetion was founded in 2012.

Where is Aetion's headquarters?

Aetion's headquarters is located at 5 Penn Plaza, New York.

What is Aetion's latest funding round?

Aetion's latest funding round is Series C.

How much did Aetion raise?

Aetion raised a total of $203.6M.

Who are the investors of Aetion?

Investors of Aetion include Flare Capital Partners, New Enterprise Associates, Warburg Pincus, Foresite Capital, B Capital Group and 15 more.

Who are Aetion's competitors?

Competitors of Aetion include Unlearn, Holmusk, Komodo Health, Lyfegen, Linewalks, Owkin, ConcertAI, MDisrupt, Verana Health, Promptly Health and 14 more.

What products does Aetion offer?

Aetion's products include Aetion Evidence Platform (AEP) and 2 more.

Who are Aetion's customers?

Customers of Aetion include FDA and Evio.
Compare Aetion to Competitors
Discover the right solution for your team
The CB Insights tech market intelligence platform analyzes millions of data points on vendors, products, partnerships, and patents to help your team find their next technology solution.
Request a demo