Search company, investor...
Last Raised
$45M
| 2 yrs ago
About Aerospacelab
Aerospacelab is blending satellite imagery and non-geospatial data to automate a broad range of tasks ranging from surveying to monitoring. Aerospacelab's is building small satellites that are equipped with a variety of sensors collecting high-resolution optical data multiple times per day on selected target areas.
Aerospacelab's Product Videos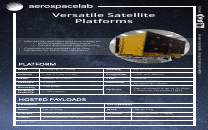 SmallSat Symp 23 OnePager VSP - recto
Aerospacelab's Products & Differentiators
Versatile Satellite Platform

o Aerospacelab offers high performance small satellite platforms at a competitive pricing
Expert Collections containing Aerospacelab
Expert Collections are analyst-curated lists that highlight the companies you need to know in the most important technology spaces.
Aerospacelab is included in 1 Expert Collection, including Aerospace & Space Tech.
A
Aerospace & Space Tech
1,883 items
These companies provide a variety of solutions, ranging from industrial drones to electrical vertical takeoff vehicles, space launch systems to satellites, and everything in between
Latest Aerospacelab News
Overseas firms on a journey to establish themselves as U.S. entities
Sep 12, 2023
Overseas firms on a journey to establish themselves as U.S. entities Synthetic aperture radar imagery collected over Washington, D.C., by Iceye satellites. Credit: Iceye With sights set on the world's most lucrative space and defense market, many overseas companies have set up shop in the United States. Notable successes include European firms like BAE Systems and Airbus, which have become prominent members of the U.S. industrial base. Following in their footsteps are a new crop of overseas space and intelligence companies seeking to fill U.S. government demand for cutting-edge commercial technologies. Artist's rendering of Exotrail's orbital transfer vehicle. Credit: Exotrail "Our goal is to move deeper and deeper into government work," said Tyler Browder, CEO of Exotrail U.S. Browder runs the newly formed U.S. subsidiary of France-based Exotrail, a manufacturer of satellite propulsion systems and developer of orbital transfer vehicles known as space tugs. Exotrail, for years, has exported satellite thrusters and other hardware to U.S. customers. Still, the company decided to set roots in the United States to compete for government contracts requiring domestic production. "We've watched other European companies come to the United States. We studied what they've done, what's worked," said Browder. U.S. defense and national security agencies are sending a "powerful message" that they welcome innovation developed elsewhere, particularly from partner nations, said Brian Holt, a former U.S. Space Force procurement official and now head of Exotrail's U.S. government business development. The U.S. chief of space operations, Gen. Chance Saltzman, has promoted the concept of "partnering to win," Holt noted. "It's the idea that space is seen from a global perspective, that the U.S. might not be able to meet all the demands, and that there are extremely capable partners out there that can provide things." Also illustrating a more welcoming attitude toward non-U.S. firms is the Space Force's Hyperspace Challenge technology accelerator, which this year is co-sponsored by the secretive Space Rapid Capabilities Office. The Hyperspace Challenge on its website says it "encourages non-U.S. organizations with relevant innovations to apply. We realize there can be significant challenges faced when the U.S. DoD works with non-U.S. companies, but our goal will be to overcome those challenges." This is a sign of a remarkable "change in culture," said Holt. More opportunities for foreign firms Jerry Welsh, an industry expert who advises U.S. and foreign companies, said more space companies are U.S.-bound, not just to chase government contracts. Welsh previously ran the U.S. subsidiary of Iceye, a Finland-based radar satellite operator that supplies imagery and data analytics services to U.S. intelligence agencies. "Because of the proliferation of venture-backed global space companies, the term 'foreign' starts to lose relevance," he said. "There are U.S. companies with non-U.S. investors and executives; non-U.S. companies that have a U.S. entity with U.S. citizens." Welsh cautions space companies entering the U.S. government market to perform an objective assessment of their capabilities relative to U.S. agencies' demand signals, operational needs, budgets and congressional support, he said. "Based on this assessment, they can then define a clear go-to-market strategy with execution and financial plans." In general, the climate for foreign-owned companies has improved in recent years, Welsh said. Over the past year, the National Reconnaissance Office, a U.S. intelligence agency that has not typically worked with foreign firms, has signed multiple agreements with commercial remote sensing companies, including foreign firms with American subsidiaries. "These changes may seem subtle, but it feels like they have put out the welcome mat," Welsh said. "I don't think we would have seen that two or three years ago." To do classified work, a company has to meet requirements set by the Defense Department's National Industrial Security Program. A foreign-owned company has to undergo an extensive regulatory review conducted by the Defense Counterintelligence and Security Agency, known as FOCI mitigation, short for Foreign Ownership, Control or Influence. To pass this review, FOCI firms must establish a mitigation agreement to ensure that secret U.S. information is not compromised. "If the business plan includes FOCI mitigation, it's best to start as early as possible as it is often the long pole in the tent," Welsh said. BAE Systems, a U.K.-based firm that is one of the six largest suppliers to the U.S. Department of Defense, mitigated its foreign ownership through a so-called Special Security Agreement with the U.S. government. Airbus U.S. Space and Defense also operates under this type of agreement. A Special Security Agreement is the most commonly used FOCI mitigation instrument. Under this agreement, the foreign owner maintains control, but decisions are handled by a U.S. board of directors that sets policies to prevent unauthorized access by the parent company to classified or export-controlled information. Foreign control is turned over to a U.S. proxy holder or trustee under other mitigation vehicles, such as a proxy or a voting trust agreement. "I advise companies to assess the viability of their solution relative to U.S. government demand signals so that they don't over-invest," Welsh said. "A company may decide to focus solely on selling to U.S. commercial customers and partners, negating the need for FOCI mitigation." Artist's rendering of Space Forge's ForgeStar satellite. Credit: Space Forge Space Forge, a U.K.-based space firm developing reusable satellites for on-orbit manufacturing, announced plans to establish U.S. operations earlier this year. Andrew Parlock, managing director of Space Forge's U.S. manufacturing operations, said the process of becoming a U.S. government contractor is not the same for every foreign firm. "Each company has to go through its own journey," he said. Parlock, who previously was director of business operations at Iceye, said the U.S. government wants to work with "friendly nations, nations that are historic allies, to bring capability to the U.S." . As one of the largest organizations to go through the process, BAE led the way to go through FOCI mitigation and create a separate U.S. entity, Parlock said. "Iceye has done it. Certainly, Space Forge is going to go down that path and make sure that we follow the process that the U.S. government has established, as amorphous and as gray as that process can be at times." Proximity to customers Ken Campbell, a former director of national security engagement at Maxar Technologies, now runs the U.S. arm of Israel-based Edgybees. Commercial and government organizations use Edgybees' software to georeference satellite images and other data. Georeferencing means adding geographic information to an image to verify the location of an object of interest. Campbell said that Edgybees takes a raw image and aligns it with its exact position on Earth. Edgybees' goal to penetrate the U.S. defense and intelligence market led the company to establish a domestic presence, and recently announced appointments to its U.S. board of directors, Campbell said. Campbell added that establishing relationships with U.S. government agencies and prime contractors requires a physical presence where decisions are made and contracts are awarded. That's not possible "if you're thousands of miles away." "First, you send white papers and respond to requests for proposals," he said. "But the final effort comes from personal interaction either with the prime contractors or directly with the customer. It's hard to do that over a Zoom conference." In the geospatial intelligence sector of the market where Edgybees competes, sometimes customers require company engineers and software developers to work at government locations, "so you have to have people in the U.S. to meet those needs," Campbell said. Some agencies in the U.S. government have become increasingly open to working with foreign firms, he said. "They understand that when you have a 'not built here' mentality, you limit yourself, and there's a lot of great technology that's being built by overseas companies." Campbell said DoD and the intelligence community can greatly benefit from the democratization of space. Space companies outside the United States are developing capabilities at increasingly lower prices, "and they have an opportunity to inject themselves into the competitive process," he added. "You're seeing this with SAR [synthetic aperture radar] satellite imaging in particular, and other forms of remote sensing." Filling demand for smallsats Based in Belgium, Aerospacelab manufactures small satellites and sees the U.S. market as a significant growth opportunity. The company recently named Tina Ghataore as chief executive of Aerospacelab North America, the company's newly formed U.S. subsidiary. Ghataore, three years ago, helped stand up U.S. operations for Germany's Mynaric, a provider of laser communications terminals for satellites and other platforms. Mynaric is now a key supplier of terminals to defense contractors producing satellites for the U.S. military. Ghataore sees a similar path ahead for Aerospacelab, which is preparing to open a mega factory in Belgium and is eyeing U.S. commercial and government customers for its satellite buses and payloads. "The real traction on the smallsat side and the market demand has been coming from the United States," Ghataore said. "And we think we can capitalize on all the investments that have already been made in Belgium." Although there is abundant domestic production of smallsats today, Ghataore said there is room in the market for a couple of new players, given the demand signals coming from DoD, NASA and commercial firms. One of Aerospacelab's first U.S. customers is Albedo, a remote-sensing startup planning to establish an optical and thermal imaging constellation in very-low Earth orbit. Ghataore said the company is still developing a strategy for its U.S. operations and has yet to decide whether it will need to pursue a FOCI mitigation agreement. She said that the path forward will be determined by the type of work and customers Aerospacelab pursues in the United States. "What I'm trying to do is take really small measured steps to look at the markets that can be penetrated first." Aerospacelab's satellite manufacturing line in Wallonia, Belgium. Credit: Aerospacelab From a security standpoint, a key concern for both U.S. and European manufacturers is ensuring there are no "bad actors in our supply chains," Ghataore noted. "And that's going to get even more scrutiny as we work with the U.S." Belgium is one of 23 countries with reciprocal defense procurement agreements with the United States, allowing DoD to treat these countries as domestic producers under the Buy American Act. The countries currently qualified under such agreements are Australia, Austria, Belgium, Canada, Czech Republic, Denmark, Egypt, Finland, France, Germany, Greece, Israel, Italy, Luxembourg, Netherlands, Norway, Poland, Portugal, Spain, Sweden, Switzerland, Turkey and the United Kingdom. Many European suppliers can sell to the U.S. under these Buy American Act provisions, Ghataore said. However, certain DoD programs require domestic production, which would drive decisions on establishing a manufacturing facility in the U.S. Aerospacelab expects to ramp up operations over the next two years, she said. The plan is to be ready to fill a projected surge in demand for smallsats in the 2024 to 2025 timeframe. Next phase of innovation Welsh, the industry adviser, said he expects more overseas space companies to venture into the U.S. market as commercial and government programs move into the "next exciting phase of technology and innovation." Earth observation remains a key target market for foreign firms, he said. "There has been sequential interest in commercial space companies providing RGB [red, green and blue] optical, SAR and hyperspectral imaging modes." Emerging areas where the NRO is likely to invest include thermal and LiDAR (light detection and ranging), he added. "The U.S. government is ultimately interested in unique capabilities from commercial providers as long as they have met relevant security and regulatory requirements," Welsh said. "Artificial perception barriers have existed at times," he said. "But these seem to have decreased as foreign-based space companies brought new innovation, opportunities and jobs to the U.S." Welsh also sees the nascent in-space services sector — including satellite services, transportation, situational awareness and logistics — as a major opportunity. Exotrail's U.S. CEO Browder said the company expects its first major investment in the U.S. will be a facility to manufacture thrusters and also to integrate space tug vehicles so that U.S. customers won't have to ship their satellites to Europe for integration and then back to the U.S. for launch. "We definitely see a lot of traction in the U.S.," he said. This article originally appeared in the September 2023 issue of SpaceNews magazine.
Aerospacelab Frequently Asked Questions (FAQ)
When was Aerospacelab founded?

Aerospacelab was founded in 2018.

Where is Aerospacelab's headquarters?

Aerospacelab's headquarters is located at 9, Rue Andre Dumont, Mont-Saint-Guibert.

What is Aerospacelab's latest funding round?

Aerospacelab's latest funding round is Series B.

How much did Aerospacelab raise?

Aerospacelab raised a total of $57.31M.

Who are the investors of Aerospacelab?

Investors of Aerospacelab include XAnge, Societe Regionale d'Investissement de Wallonie, BelAero Business Angels, Sambrinvest, Noshaq and 8 more.

Who are Aerospacelab's competitors?

Competitors of Aerospacelab include York Space Systems and 2 more.

What products does Aerospacelab offer?

Aerospacelab's products include Versatile Satellite Platform and 1 more.
Compare Aerospacelab to Competitors